Welcome to the first edition of the Composers of Choral Music Community's (CCMC) ChoralNet Composer of the Month. Each month a composer from our community will be selected. Composers of various levels of experience will be sampled. This month's installment arose from an excellent discussion in our forum about performances beyond the premiere. I am calling on my personal experience to get started with this series. I hope that this testimonial style of writing will be different than the straight up info you could get from a composer's bio. Readers are welcome to comment on any aspect of the article and are encouraged to explore the music of each month's honored colleague. Keep in mind that one of the guiding purposes of this community is to open the door between composers and conductors on ChoralNet.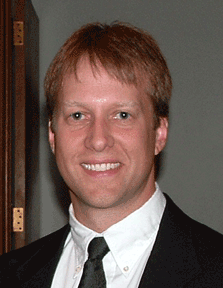 The composer of the month for November, 2011 is
Brad Burrill
. 
     I have known Brad Burrill in a professional capacity for many years. I first heard the quality of his work when he was the resident arranger for a Milwaukee based vocal jazz quintet called the ACME Vocal Company. Brad's arrangements were fresh and fun. Over the years we bumped into each other at conventions and workshops. At one such event Brad showed me a piece he wrote called
Full Fathom Five
. It was exactly the type of piece I was looking for to do with my high school concert choir. The text was interesting and the text setting was engaging. I could not believe that he was having difficulty getting it published. I talked to Brad about taking the piece on tour with my choir and managed to find funds to get him to write another piece for us to showcase. We performed his pieces at a local festival and then at several high schools around our state. The tour included stopping at the school where Brad was teaching and performing under his direction with our combined choirs. 
     The commissioned piece was called My Soul is Awakened for SATB a cappella and would be equally useful in a high school secular program or as a church anthem for Pentecost. It opens with a section of vocables that starts the piece on its flowing path. I listened to the midi file before seeing the text and could sense the imagery of a blowing wind. When I asked Brad about the piece he had this to say:
"(I) kind of trusted my muse; I let it lead me down the path of voices singing the accompaniment of swirling leaves on a windy day.  I distinctly remember the night I finished it (around 1:30 am) because I was very high on the piece, and when I came to bed Teresa (already asleep) asked me how I was. I responded that I was ecstatic because I had just given birth! She said that's nice and rolled over."
Perhaps Mrs. Burrill, who has actually given birth, did not think much of Brad's analogy.   
    We made a recording of the performance which later proved to be quite useful.  I took the recording to a district music staff meeting and used it to help convince my colleagues to commission Brad for that year's festival finale. He wrote
Come Dream With Me
for SA and SATB combined choirs. It was very well received. Brad put the recording of
My Soul is Awakened
on his
MySpace
page which led to a conductor at Bob Jones University in SC picking it up. That choir made a more
professional recording
which is also available to listen to. 
     Burrill's break on the road to being a published composer came because of networking. He attended the
Rene Clausen Choral School
 in Moorhead, MN a couple of times where he met a choir director named
Michael Culloton
.  Culloton directs the SW Minnesota Honors choir in Rochester, MN.  He agreed to look through some of Burrill's works.  Culloton programmed a performance of 
My Soul is Awakened
and then revealed that he was an editor for Santa Barbara Publishing. To the delight of the composer the piece was picked up by Santa Barbara and is available as octavo SBMP 711. (Click on the JWPepper or sheetmusicplus ads on this page to order).  Michael Culloton relayed to me that he felt the piece was something his high school aged students would enjoy and that his assumption proved to be correct.  Culloton said that many of his singers especially enjoyed meeting their first living composer when Burrill attended a rehearsal. 
"The spirit in the room that night was really fantastic and it changed the way the singers approached it from that time forward."
Santa Barbara has sold over 1,000 copies of
My Soul is Awakened
and the piece has received many performances. Singers have contacted the composer on his MySpace page telling him about their performances and their affection for the piece.  There is a video on YouTube of a choir singing it 
(Start at 1:10)
. You can get the idea of how Burrill's music affects singers by reading the comments.
     A recent thread in the CCMC forum discussed the teaching style of
composition teachers
. An interesting revelation was that many of our most prolific and successful composers did not study formally. This is the case with Burrill. When Brad attended the Clausen Choral School and met Eric Whitacre, he was inspired that a self-taught composer his own age was living his professional dream. That revelation led to the creation of what I believe is Burrill's finest work. 
Full Fathom Five
is a high school or college level powerhouse for SSATB a cappella and 2 short soprano solos. The imagery of the text is brought to life with such power and vitality that one can almost taste the salt air as the sea nymphs ring their bells. My high school students could not stop telling everyone what a great piece it was.  Everyone we performed it for was deeply moved. 
Full Fathom Five
was premiered by Rick Kieffer and the Whitefish Bay High School Bel Canto Choir (WI). The piece has received many performances. Most have come from direct promotion by the composer. A performance at an American Composers Forum choral 'reading salon' in Chicago led to another performance, as did personally sharing scores with many directors that Burrill has met over the years.
     So what lessons can we take from following this composer's journey? Having a valuable, marketable product that appeals to the performers as well as the audience is very important. Keeping these constituencies in mind when writing could be very helpful. Having a recording of the premier of a work available can lead to more performances and help to get a piece published.    
     As we discovered in our forum earlier this fall, having a degree in music theory or taking private lessons is no predictor of success as a composer. Composition is a social event. It is clear that composers need to build relationships with other musical people. There are a lot more high school choir directors than college or professional choir directors so that is a good place to start. Those that have their own ensembles may have more opportunities to make those connections through workshops, conventions and festivals. 
     Remember this: People will choose your work, people will perform your work and people will listen to your work. Be a part of the lives of people around you. Be an active part of this community!
-------------------------------------------------------------
Brad Burrill is pursuing his career as a composer from his home near Wausau, WI. He can be reached at brad@bradburrill.com
Resources Discussed: