Search
Composers of Choral Music
Date: April 4, 2013
Views: 2318
The ChoralNet Composers of Choral Music Composer of the Month for April 2013 is Craig Minowa.
           I have recently had some unusual experiences that I think other choral professionals could learn from.   My choir and I had the opportunity to record with the rock band 
Cloud Cult
 on their just released album 
LOVE
.  I encourage my colleagues to read this article and push themselves to think outside of the comfortable box we tend to put ourselves in.
            Craig Minowa is an excellent composer who crosses many style boundaries.  He has composed for film, including a National Geographic series, as well as for his band Cloud Cult.  I was struck by the classical feel of several pieces from previous albums, in particular 
When Water Comes to Life 
which has an orchestral accompaniment and 
Unexplainable Stories
 that features brass and strings.   On 
LOVE
 the track Its Your Decision has some of the same timbres.
            I asked Craig for an interview to talk about issues that I think could help composers and conductors to expand our minds and give new experiences to our choirs and audiences. 
Interview with composer Craig Minowa
Q1: You have composed music that has been used in film and concert.   What are the differences in the way you create music for film and Cloud Cult's performance?
A: There's really very little difference in how the music is composed. The only variation is that in scoring, someone else supplies me with the storyline that I need to write to. And with Cloud Cult, I need to create my own storyline. There are benefits to both, so I appreciate the balance of doing both. Although, as the years go by, I tend to appreciate being in the background more and more.
Q2: Your style of writing for Cloud Cult doesn't fit in any one category of music.  It is religious in its message but rarely mentions a deity.  It is rock at the core but uses classical instruments as well.  It is family friendly but deeply philosophical.  Some have called it environmental rock.  What category do you put Cloud Cult in?
A: I try to stay away from falling into one genre of music. I think I would get bored as a writer, if I always had to write the same style. And I think this day and age lends itself to a short attention span kind of mentality. So it's important to keep mixing it up for the listener, so they don't know what to expect. Having said all of that, in general terms, it falls into the category of Experimental Rock.
Q3:  Creating an album is a bit like what choir directors do when we program a themed concert except you create all the music from scratch. You have been called a 
master at the album
 as an art form.   The theme of your last album Light Chasers was clearly "seeking the light" and ran through most of the songs on the album.  The theme of "LOVE" seems to be "therapy" or "self-help."  Can you share some of the process you use in making the album more than just a collection of songs? 
A: Creating the flow of songs in an album is a lot like creating the flow of music in a concert. There's plenty of room for art in how it's structured, but there's also a pretty decent general template to work with when attempting to pull the majority of listeners in. There's a general storyline paradigm that you can feel play out in most Hollywood movies. I think the reason that tends to be successful is because it follows the basic storyline requirements that a viewer demands subconsciously.  This has obviously changed over time, because you look at great plays like Shakespearean tragedies where the "catharsis" comes for the viewer in the end when practically everyone dies. In contrast, the catharsis comes within a modern viewer when you see the characters overcome major struggles. So I try to build albums, concerts, and even songs, to have storyline structures that match what you'd find in a good book or good movie.
Follow up Q4:  How is song placement different when you perform live?
A: Song placement on an album is done in a way that I feel is the best artistic direction for what I'm personally looking for in the project. But art is subjective, so what do I know? Song placement in a live set is different in the sense of audience and setting. If the audience is pretty much Cloud Cult fans, the set will have the same emotional/spiritual flow as an album. If it's a general audience, I tend to not get as artsy and try to keep it more upbeat.
Q5: You built your own recording studio.  Do you have any suggestions for making quality recordings of performing groups that use electronic instruments and vocals?
A: Yes. Be really careful about falling for the trap of the idea that the better your gear is, the better your music will be. 90% of the Cloud Cult work and the scoring work is done with only 2 inputs, a couple of mics, a midi keyboard, guitar, bass and plugins. I tend to advise people to look at what they would pay to go into a recording studio and consider investing that in their own recording gear. You become a better artist when you have 24/7 access to your studio, instead of just renting someone else's a couple of weeks a year. Think modest on the gear and think big on the writing.
Q6: What software did you use for mixing LOVE and why? 
A: I currently use 
Ableton Live
 just because it really works well for scoring. I like being able to write a few dozen music "scenes" and then practice launching them live as an actual movie scene is taking place until it fits close to right. I then lay that down and refine. I know that Protools is industry-standard, but I fell out of love with it when they started charging money for every little add-on that should have been a part of the base software in the first place. 
Q7: I read in another article about you that some of LOVE was recorded outside.  What are the challenges you encountered and how did you overcome them in making such recordings?
A: The two biggest challenges with recording outside are that sound dissipates into the sky and that you don't have control over the sound of wild animals and wind. When it comes to dissipation, it's important to find a natural place that has topography with a lot of sound repercussion. We recorded some vocals bouncing off of some quarry cliff walls, so it worked like an amphitheater kind of reflection. As for the second challenge of competing with sounds from the outside world,  I think when nature adds it's voice, you need to have the humility to understand that there's something you should be listening to, whether you like it or not. It tends to add meaning to the piece, for me.
Q8: One of the unique qualities of Cloud Cult is that you have two live painters as members of the band. This adds significantly to the visual presentation of your live concerts and is the best fund raising idea I have EVER seen at a live performance.  You auction off the paintings at the end of each show presumably helping fund your band.   I have personally made an attempt to make similar connections with local artists to improve my own non-profit choir's performance and funding.  Do you have any advice to groups like mine that might want to follow your example?
A: I think the reason it has worked for us is because we've been doing it so long and because
Scott West
and
Connie Minowa
, the painters, have been a part of our story since the beginning. The first Cloud Cult song ever written was a love song to Connie in 1994, and that landed on an album that Scott hand painted every cover of for every cassette I put out. They've been painting on stage with me since the days when there were only a half dozen people in the audience. They are a part of the ENTIRE journey and they are a part of the organism, and so their paintings reflect the Cloud Cult intention and message every night. I think if we had just added a couple of random painters a few months ago or even a couple of years ago for the first time, people would see it as a gimmick and wouldn't bid as much as they do right now. But I think the people that bid on the paintings know that they are getting something from artists that have years of blood, spirit and intention in this. The plan was never to make money off of it, the plan was to present a good performance in both audio and visuals. And for years, it didn't make money. So, I guess my advice would be, don't think of it along the lines of "what's going to be a money-maker", think of it along the lines of "what feels like it just SHOULD be". Honest money comes out of being persistently authentic.
Q9: Your music is uniquely useable by K-12 school choirs. You frequently use vocal harmony and your lyrics are particularly school appropriate.  Church choir directors should note that the wedding song "
Meet Me Where You're Going
" on LOVE could easily replace the tired old Paul Stuckey "Wedding Song" if people had access to the print music.  Do you have any plans to make a Cloud Cult songbook or to publish the sheet music for any of your songs.
A: You are incredibly kind with your words. Yes, it would be a dream to have it published in that manner, and we have a fair number of requests, but I have no idea where to begin a process like that.
Q10: Do you have any suggestions for choir directors that would like to collaborate with bands like yours?  What is the best way to approach busy professionals like yourself?
A: Be professional but be approachable. I think there is a bit of a chasm between the pop rock music world and the classically trained, in that there are a lot of musicians making a living these days by writing intuitively but not necessarily with a strong theory background. So you'd have to approach the artist in a way that suggests you are going to deliver an awesome product but that it's not going to be a taxing process of them needing to hand-write a slew of sheet music and co-conduct the choir and co-engineer the recording process. What made this process doable for me was the fact that, first, I was blown away by the very cool rendition of Chemicals Collide that your choir did. And second, that you made the process easy... basically, you said, "send me the song, and I'll figure out the rest." You made it worry-free and excellent. So, in a nutshell, just do it like Jack does.
***************************
This was an incredible learning experience from beginning to end.  For those that might question the wisdom of collaborating with popular musicians let me share a bit of the good that came from this.   When my school choir covered 
Chemicals Collide
, Craig Minowa invited the kids to sing on his new album.  It was impossible to bring the school choir together as a summer school class as our district had to cut all enrichment classes for financial reasons.  Therefore I used the opportunity to start a 501C3 non-profit music organization.  What better recruitment tool than to be able to ask "Hey kids, who wants to sing on a rock band's new album?"  We started with 20 kids. 
Cracking the nut of recording with 20 kids listening to headphones has given me a whole wealth of knowledge about recording that I will continue to use for the rest of my career.
Then I got an email from America's Got Talent asking the kids to audition for their upcoming season.   This was because of a cover of a video game song my kids had made a couple years ago.  That invitation has allowed me to recruit even more singers and expand the choir to 35 members this spring.  If we get a call back, all the better. 
The success and ability of this semester's kids attracted an extremely talented director to volunteer as our assistant director, greatly enhancing our ability to progress as a choir.
I am eternally grateful to Mr. Minowa for answering my email that started this whole thing.  In full disclosure, my organization does not receive any financial benefit from sales of the album LOVE and I am fine with that.  Mr. Minowa provided us with enough CDs for each of the kids and also corresponded with the choir.  They feel like the coolest kids on the planet.  That alone is enough reason to give this kind of thing a try!
Apologies to the Composer's of Choral Music Community.  I realize I am breaking my own rules as Craig is not a member.  I feel that what he has to offer us was worth the violation.
***************************
Other links about Cloud Cult
Date: June 14, 2012
Views: 3071
I met
Karen P. Thomas
more than twenty years ago when I auditioned to sing with her choir,
Seattle Pro Musica
.  During the subsequent decades I learned a tremendous amount from her deeply informed musicality, with its emphasis on beauty and humanity, and from her wide-ranging choice of repertoire.  In addition to being a widely acclaimed conductor, she was already earning recognition as a composer of note when I started with SPM, and I had the great pleasure of singing many of her compositions, several of them on many occasions.
Seattle Pro Musica commissioned and in March 1993 premiered Thomas's Three Medieval Lyrics, a set of three pieces for unaccompanied SATB choir of 14th- and 15th-century English lyric poetry describing the delights of love.  Two pieces from the set, To Mistress Margaret Hussey and Alnight by the Rose, were released on Seattle Pro Musica's 2001 Alnight by the Rose CD.  Mistress Margaret is very melodic, with a melody that evokes its medieval source, and moves mostly homophonically, with energetic passages of layering echoes.  Alnight by the Rose, in contrast, slowly layers sustained tones to build ever shifting cascades of harmony.  As a singer, I very much enjoyed singing both of these works.
PDF perusal scores and mp3s for
To Mistress Margaret Hussey
and
Alnight by the Rose
are available in the
Composition Showcase
, so you may listen to the recording as you follow along in the score:
PDF:
To Mistress Margaret Hussey
Another early Thomas work that I very much enjoyed singing is The Gloves, an extended (25 minutes!) work for choir and small ensemble (flute, clarinet, viola, cello and piano) that tells a very touching story based on an oral history taken from a centenarian woman's early experiences at school and work and her first rather shy encounters with the man who was to become her husband (referred to in the text as "your granddaddy"). 
In March 2004, the Women's Schola of Seattle Pro Musica premiered
Lux Lucis
, Thomas's set of three motets on texts by Hildegard von Bingen.  As Thomas describes, "Compositional devices such as shimmering harmonies, cascading polyphonic lines and the polarity of rich and simple textures are used to illuminate the textual themes found in the poetry — themes of light, hope and purity.  Musically, the motets make some reference to Hildegard's compositions — particularly in the use of the interval of the ascending fifth, which is found in many of Hildegard's songs, and also in the extended change which opens the third motet." 
Lux Lucis
has won wide praise from critics, such as
Classics Today
, who said:  "The choral writing is first-rate… wonderfully colorful, vibrant sound.  These are important works…" 
Lux Lucis
is included on Seattle Pro Musica's 2005 CD,
Music of the Spheres.
  The PDF perusal score and mp3 for the first of the set,
O virtus Sapientie
, is available in the
Composition Showcase
:
In 2010, Thomas composed two new works for Seattle Pro Musica based on text from the Song of Songs of Solomon: You Have Ravished My Heart and Yonati (O my Dove).  I was lucky to sing in the premiere of the luscious Ravished, but had stopped singing before the premiere of Yonati.
YouTube for You Have Ravished My Heart:
Recently, Seattle-based Choral Arts commissioned Thomas to compose a new work setting the winning poem from their annual poetry contest for Washington State students in grades 6 to 12.  The result, an SATB setting of
The Watcher
by 11-year-old Brian Kirkman, was premiered in May 2012.  Thomas writes in the program notes:  "I am so happy to have been invited to compose a work on such a 'musical' text by a talented young poet.  Brian Kirkman's poem truly sings even without music and evokes a multitude of lyrical imagery."  The PDF perusal score and mp3 for
The Watcher
is available in the
Composition Showcase
:
At the end of this month, another of Seattle's many wonderful choirs, The Esoterics, will perform Beauty Is Before Me, a setting of Navajo text, which was written in 2010 for the memorial service of a close friend of Thomas who had sung for years in the choir at University Unitarian Church, where she is Director of Music.
For the past twenty years, Karen Thomas has been a guiding example to me as I forged my own identity as a composer, and I look forward to hearing what she accomplishes in the next twenty years.  She graciously answered some questions that I put to her on behalf of the ChoralNet Composers of Choral Music Community:
You maintain a very busy conducting schedule.  It must be difficult to find time to compose, let alone to promote your compositions.  Do you schedule blocks of time on your calendar for composition?  And for promoting your compositions?
Yes, it is difficult to balance the demands of conducting and composing — the most helpful thing is a deadline!  When I have a commission with a firm deadline and a performance scheduled, then I have to make time for it.  Self-promotion as a composer is even more difficult to find time for, and I need to do a better job of that.  Fortunately, in addition to self-publishing, I have some pieces published with Santa Barbara Music Publishing (sbmp.com), so that helps quite a bit with sales of those pieces.
Your choral compositions have won many awards, including the New York Treble Singers Composer's Competition, the Roger Wagner Contemporary Choral Composition Contest, and His Majestie's Clerkes Choral Composition Competition, among others.  Have these awards been useful in getting exposure for your work?
I think that these awards can be somewhat helpful, but not as helpful as performances and diligent self-promotion.
Some of your more recent choral works, Lux Lucis, for example, seem designed to take advantage of large reverberant spaces like St. James Cathedral where your choir, Seattle Pro Musica, often performs.  Has your experience conducting in different types of venues affected your choral writing?
Absolutely. All of my conducting and performing experience influences my composition in some way.  One learns a great deal about what works and what doesn't work in different types of acoustics.
You conduct a large semi-professional choir, Seattle Pro Musica, as well as a neighborhood church choir at University Unitarian Church.  Has your experience conducting different types of choirs affected your choices as a composer?  Are you thinking about the capabilities of a particular choir when you compose a work, or do you complete the work and then find an appropriate choir to perform it?
In general, when writing a commissioned piece, I focus on writing a piece that works for the commissioning group and the venue they will perform in. I keep an eye toward future performances as well, but mainly want the piece to be a good fit for the group giving the premiere.
As a conductor and artistic director, as well as a composer, you are keenly aware of the factors that go into programming decisions, including the tendency for selections to be based largely on whether a work fits a programmatic theme.  Have programming considerations affected your choice of texts for new choral works?
As a composer, I don't really think much about thematic programming when choosing a text — what I'm looking for is a text that speaks to me and that I feel I can work with.
Choral Arts recently premiered your new work, The Watcher.  Can you tell us how this commission came about, how the text was selected, and whether you took any role in the rehearsals for the premiere performance?
This was an interesting commission, as it was part of their education program.  Each year they commission a composer to set a text by the student winner of their poetry competition.  So I knew I had a commission long before the text was chosen - which is a potentially problematic situation.  Fortunately, the winning poem by an 11-year-old student, was absolutely beautiful and very well-constructed — it was a joy to set to music.
Some of your choral works are published with traditional publishing companies and others are self-published.  Do you find it helpful to be published?
If you are with a good publisher, absolutely yes.  I have several pieces with Santa Barbara Music Publishing, and they do a great job of getting the works out.
Are you currently working on any new choral works?
I just finished two commissions — "The Watcher" and "New Skies" — and will soon be starting a commission for the Seattle Girl's Choir.  "New Skies" was a fascinating project.  It was commissioned by All-Saints Church in Pasadena for their six youth and children's choirs, on the theme of acceptance, specifically addressing issues of bullying of gay teenagers.  I think it turned out quite successfully, and gives a very uplifting and promising message — something that many school and children's choirs might be interested in.
Are there other upcoming performances of your choral works that you would like to tell everyone about?
The most immediate upcoming things are a performance of Lux Lucis by the ensemble "In Mulieribus" in Hood River, Oregon on June 22.  After that, the Esoterics perform Beauty is before me on June 29 & 30, and July 1 in Seattle; and again on July 8 in Denver.  "New Skies" will have a repeat performance in Pasadena on November 11.
What advice would you give other composers about approaching choral conductors and the best way to gain exposure for their work?
If you are self-publishing, have a really good website, with easy ordering function — and also with audio samples and online score samples.  That's the easiest way for conductors to peruse and order.  (Now I need to take my own advice, and get my website in better shape!)
Date: May 11, 2012
Views: 4718
The Composers of Choral Music ChoralNet Composer of the Month for May 2012 is Hildigunnur Rúnarsdóttir.

This month I have chosen a composer whose music I really love, but from a culture I know very little about.
Hildigunnur Rúnarsdóttir
is an Icelandic composer who is well known in her own country and abroad. Her music has depth and a wonderful sonority that rings with a Nordic flavor. This flavor is trademarked by a sense of melancholy, lyrical melodies, modal keys and open 4
th
s and 5ths. Hildigunnur's music has been compared to Jon Nordal, Jon Leifs and one of my most favorite composers, Einojuhani Rautavaara. She recently received a Silver Platter Award for her Psalm 150 that is posted in the
Composition Showcase
http://www.choralnet.org/showcase
. Please right-click or command click on the following link to listen while you read.
http://www.choralnet.org/paint/307454
Being that my only experience with Icelandic culture involved a brief stop, a bottle of cognac, and forgetting my passport on the plane, I thought I would ask the experts. Below are several emails I received from those in the know.
First is a letter from Eric Banks. Eric is a composer and the director of the choral ensemble The Esoterics. If you haven't heard them, it will make your life worth living to listen to them on iTunes or read about them on their website
http://www.theesoterics.org/
I met Hildi through a Facebook introduction by our mutual friend, Marian Dolan. I traveled to Reykjavik for a couple of weeks over the winter holiday break (from mid-December 2010 to mid-January 2011). Actually, I was there to compose.

I had been to Iceland before (in the summer of 2006), but hadn't been during the winter, and I was happy to retreat to a place where I knew nearly no one. For those rare moments when I craved a little human contact, Hildi was a lovely companion. We had some great conversations about choral culture in Iceland, and she played for me some recordings of works by several choirs in Reykjavik, by several composers, including some of her own work. We also talked about some of the intricacies of singing in Iceland. I did my Fulbright in Sweden, and speak Swedish, so learning the basics of Icelandic diction wasn't too far to stretch. But Hildi helped me understand the pitfalls.

When I left Reykjavik that winter, I had several beautiful and compelling recordings of Icelandic choral music, thanks to Hildi. My ensemble, The Esoterics has sung Icelandic repertoire before, so for me, this wasn't uncharted territory. But rediscovering some of this repertoire with Hildi was like spending time with an old friend. What I particularly like about Icelandic choral music is the preference that many composers have for poetry about nature. My personal bias in programming is away from music that is Judeo-Christian, and toward poetry that is more universal and ecumenical in scope. Obviously, there are several Icelandic composers that set Christian sacred poetry and scripture, but there are so many who also set verses from the Eddas, ancient native sagas in which the natural and spiritual worlds unite. These ancient texts fascinate me, and their mysticism has traversed the centuries to find emulation in the texts of modern Icelandic poets. I think that choral music could use a little more of this bias. I hope it catches on. J

I programmed one of Hildi's pieces, called Martröd [Nightmare] on The Esoterics' concert series NATURALIA, in the autumn of last year. The theme of the concert was the exploration of how the human psyche is manifest in our description of nature. There were sixteen pieces on this particular program, and the concert I had planned 
was to explore many natural images and emotions. Martröd was one of the darker and more compelling of the pieces in the program. In it, Icelandic poet Örn Arnarson described nature at the end of its cycle, in which he took on the voice of a corpse and its
 destruction at the mercy of the sea. While the subject matter isn't necessarily pleasant, 
the composer's choice to describe this process demonstrates no small amount of courage. I loved how Runársdóttir's Nightmare added drama, depth, and gravitas to the narrative of The Esoterics' NATURALIA program. I look forward to performing more of her work.
Next I talked to a former professor of Hildigunnur's who has programmed her works for his choirs. Bernharður Wilkinson is a distinguished orchestral and choral conductor who lives in the Faroe Islands. You can read more about him and his program at
www.wilkinson.fo
He gave some excellent biographical information about our subject.
I have known Hildigunnur since she was a violin student in the music conservatory. She comes from a very musical family so she has had a definite advantage in that respect. Being a very good singer herself and also with a knowledge as an instrumentalist means she writes music which is highly effective and performable. Not always the case! I have performed various pieces of hers composed for various occasions. She is always spot on as regards to who is performing and what the occasion is. Quite often she has been singing herself. Having the composer there is such a help as both the conductor and composer can make fine adjustments as the project develops. She is always ready to listen to myself and her fellow performers and follows what other composers are doing. In other words always developing which I think is essential for a composer. It is a great help for me as a conductor to know what her style is, what kind of choral sound she likes etc. She also has a Nordic sound to her compositions.
To find out about the publishing industry in Iceland I wrote to Sigfríður Björnsdóttir, the director of the Icelandic Music Information Centre.

The Iceland Music Information Centre is a central hub for written music in Iceland. IceMic is not a formal publisher and as such does not collect any part of the performing rights income from the composers. The music is managed and sold and the individual composers get a certain percentage of the sales. As an information and service centre the main emphasis is placed on the quality of internet presentation in database as well as excellent service for performers. IceMic responds to occasional promotional opportunities and we have a label for CD publications under which her mass was published. Other works have appeared on several CDs, among them four piece on the CD Hymnodia - choir music by Icelandic women composers (ITM-908).

Hildigunnur is a very well known composer in Iceland, not least for her choral music. She is known for her sensitive treatment of the voices and her transparent chord patterns built on old traditions yet with their individual twist. She has composed well-received masses, already popular psalms, a beautiful miniature - the gem Leaves of Spring and much more. She has a genuine interest in voices being an excellent singer herself. She composes choral music for children and has arranged on request several old tunes and some pop songs. Her open minded approach to all these different kinds of compositional tasks combined with her care for voices in general gives all her music the quality of singability that makes choirs ask for more.
Date: April 10, 2012
Views: 3603
The Composers of Choral Music Community ChoralNet Composer of the Month for April 2012 is Greg Bartholomew.
This month's installment has taken me a while to finish. I started out asking myself the question: "Why would a conductor choose one composer over another?" This is no small question. There are so many reasons. Among the drivers for repertoire selection are: familiarity with the person or their work, a catchy title or text that speaks to the conductor's spirit or more practically, their programming needs and often the sheer beauty or expressiveness the composer is able to invoke.
I then tried to apply that to this month's composer. Why would I, or more to the point, why should you give the works of
Greg Bartholomew
a look? I am happy to say that there is one paramount reason for doing so: Greg is a master craftsman.
Quality craftsmanship is the catalyst for marketing choices for all that are serious about their subject area. A young homeowner may buy cheap tools to do a job around the house but a professional mechanic buys quality tools that last. When you buy a car, do you improve your chances of getting a quality vehicle by checking the car facts or reading reviews from reputable sources? In the music field, how much did the concertmaster for the New York Philharmonic pay for his violin? The stuff of what makes a great performance includes using quality well-crafted repertoire.
The quintessential element that separates choral composers from instrumental composers is of course, text. How a composer handles that text speaks volumes to the quality of the work. Greg handles text extremely well. Word painting and variety are the two trademarks of his work. He is not afraid to tackle texts that few other composers would dream of setting. In his SATB "To a Locomotive in Winter" he set a Walt Whitman poem that is about as complex a text for composing as they come. Here are the opening 4 lines of the 25-line poem:
"THEE for my recitative!
Thee in the driving storm, even as now-the snow-the winter day declining;
Thee in thy panoply, thy measured dual throbbing, and thy best convulsive;
Thy black cylindrical body, golden brass, and silvery steel;"
As you see, there is not much to build a standard phrase from but plenty of opportunity to propel the text. "To a Locomotive in Winter" is available through the Composition Showcase
http://choralnet.org/view/306612
on ChoralNet. Click
here
for the
entry
, control-click (Mac) or right-click (PC)
here
for the
PDF
and
here
for the
sound file
.
I will look at two of Bartholomew's works in depth: "The Tree" and "The 21
st
Century (A Girl Born in Afghanistan)." I will be looking mostly at word painting in the first example and variety in the second. You may want to open up the score to "
The Tree
" and follow along with me.
Greg chose a text by the 19
th
Century American poet Jones Very for this work. The poem speaks of love in all four seasons, using the changing appearance of a tree to allude to other loves. Throughout the piece Greg enhances the text through the use of various forms of word painting. I will be putting this under the microscope, looking at the minutia measure by measure. When completed please watch and listen to the piece with all of these insights in mind.
SPRING
mm 1-5: This phrase begins mezzo-piano and crescendos on the text "thy swelling buds" to show the early spring growth.
mm 6-9: A staggering of entrances and rhythm differences on the text "and one by one" give the feeling of a plethora of leaves unfurling in quick succession.
mm 13-15: A crescendo on "they knew that warmer suns" shows warming air.
m 20: The chord is a tonic triad missing the third on the word "cold" to give an empty feeling.
SUMMER
mm 21-25: The text is "And when in darker growth." Greg uses just the men's voices to give the darker feel.
mm 27: Greg uses the first eighth notes in the piece to show the busy activity of the "early robin's nest" made in spring but now covered by growth.
mm 29-33: "I love to lie beneath thy waving screen" is treated with an eighth/quarter syncopated motive and a crescendo/decrescendo to show the waving motion of the branches. Greg slows this "summer" section down 10 beats per minute to show a more relaxed summer pace.
mm 34-40: The pitches rise to the highest level anywhere in the piece in S, A and T on the words "summer's heat" and is accompanied by a crescendo.
AUTUMN
mm 41-45: The autumn begins here with a little faster tempo. The text "And when the autumn winds have stript thee bare" is stripped down to just the men's parts.
WINTER
mm 45-49: This is my favorite example. First off, Greg sets a changing meter of 2/4, 3/4 and 4/4 to get the word accent on the first beat of each measure to come out how it would be spoken. The 3/4 precipitates the first word in the measure lingering a while longer than the other preceding words. This allows the 4/4 measure to contain straight quarter notes to show the meaning of trodden, as if walking through the snow. Even though the word is "untrodden," taking into account that this is just a moving moment in time, it allows the listener to see the walk through the snow in order to appreciate the beauty of the undisturbed white crust.
mm 49-55: "when naught is thine that made thee once so fair" ends with the altos crossing higher than the sopranos. Bringing out the inside part speaks to a hidden or inner beauty.
mm 56-62: The text reads: "I love to watch thy shadowy form below" This is another brilliant move. The word "shadowy" m 58 in the soprano and tenor is followed by lower pitched "shadowy" in m 59 in the alto and bass. Another "shadowy" comes a full measure later to show the elongating of the shadows in winter. The word "below" has a higher pitch on the first syllable and a lower pitch on the second.
mm 63-70: This is the longest sustaining image I see in the piece. It begins with the text "though I love to look" as a melody in the bass. Above their heads are the S, A and T in long durations as if they were large bare branches over the head of the narrator. This image continues or is repeated in the next few measures. The text continues: "through thy loveless arms" a little louder. Then "I love to look above on stars" with a big crescendo as if looking up to see the heavens through the empty branches. The branches are kept empty by using the same rhythms, no busyness or changing counterpoint. "Star" is the high note, loudest and most accented in all the piece, placing it high in the sky.
mm 71-74: There is a decrescendo bringing us back to Earth.
mm 73-End: On the text "when most we need their love" the final three notes use long durations moving together in an unusual cadence: VI7 iv7 i9 in first inversion giving the feeling of love not quite fulfilled. Brilliant!!
I realize that much of the imagery I see in this piece has to do with my own experience and perspective. However, an excellent composer like Greg Bartholomew weaves meaning into the poetry with every word he sets.
Here's the video:
---------------------------------------------------------------------------------------------------------
Next I wanted to investigate the other question I have about Greg's work: How does he set those marathon long texts in a way that is musical and holds the attention of the listener? The answer includes all of the word painting found in "The Tree" but relies largely on variety. "The 21st Century (A Girl Born in Afghanistan" is for SATB divisi, a cappella. It includes nine tempo changes and frequent changes in dynamics, texture, meter and character. To me it is what Aaron Copland's "Lincoln Portrait" would have been like if set for choir instead of for orchestra and narrator. It is a bit architectonic in that the motives from the A section return at the end to give the listener a taste of familiarity. Beyond that, it is through composed.
As we looked at the minutia in the score of "The Tree," for "The 21
st
Century…" I would like you to listen to the video and pay attention to the cornucopia of variety that Bartholomew provides the listener.
Section A begins with the tenors singing the introduction of the speech in a declamatory style while the rest of the choir sings "ah" emphasizing the dignity of the man who is speaking and the formal setting of the speech in front of the Nobel Prize Committee.
0:31 Interlude and Section B. This section sounds like a laid back anthem or simple octavo with soft dynamics. The meter changes from 4/4 to 6/8 to 2/4 and back to 4/4. The text says "Today in Afghanistan, a girl will be born. Her mother will hold her…in these basic acts of human nature, humanity knows no division."
2:02 Section C. The text says "We have entered the third millennium through a gate of fire…" Bartholomew lights the fire with fast, syncopated rhythms and stronger dynamics.
2:44 Section D Is in chorale style with most of the music flowing homophonically and homorhythmically. There is a little imitative polyphony at a slow tempo.
3:36 Section E is characterized mostly by differences in articulation. At 3:50 the tenors have a legato melody while the rest of the choir sings like bells.
3:59 Section F. A little later at 4:05 a dialogue happens between the men's and women's sections, completing each other's sentences and then at 4:22 the articulation changes to be detached.
4:39 Section G. This begins a much more legato style with slower rhythms and more imitative motives. The dynamics remain very soft until 5:30. At this point, the text "We can love" is treated with crescendos to emphasis the crux of Kofi Annan's speech: "We can love what we are without hating what we are not. "
5:59 Section H (A1). The last section begins like the first with text from the original address to the audience. It ends very softly and reflectively on the text "The girl born in Afghanistan today, is just one test of our humanity. But it is the only test that matters."
Through variety and word painting Greg infuses his works with strength and power. They are works that will last. They are works that can be pulled out and performed again and again.
---------------------------------------------------------------------------------------------------------
Greg has been named the 2012-2013 Composer in Residence for the Cascadian Chorale which is located just outside Greg's hometown of Seattle, WA. This means that several of Greg's works will receive performances in the upcoming year. These are the pieces that are tentatively scheduled:
The world premiere of "Moon Man", for December 8-9, 2012, concerts entitled "A Light in Winter"
"Three Gnostic Poems" (complete), for March 16-17, 2013, concerts entitled "Flights of Fancy"
"A Girl Born in Afghanistan", for June 1-2, 2013, concerts entitled "Far from Home"
I asked the ensemble's director about how he and Greg formed a reciprocal relationship. Here is his response:
"Some years ago, Greg wrote to me out of the blue inviting me to

perform his works. Naturally, conductors receive these kinds of

messages frequently, but I was in a position to respond quickly to his

request. He supplied me with scores promptly, and I was intrigued by

them. I've tried to keep up with his output since then.

As I program any season, I actively incorporate local composers into

my efforts. When the programs are whittled and refined, I generally

see that one composer's works are more strongly represented. For the

Cascadian Chorale's 2012-13 season, several of Greg's works fit my

intended programs, so he was my top choice. I also was eager to

present his works soon, since I had yet to perform any of them.

Other than a very brief interaction when he delivered scores to me,

Greg and I had never met in person until, as coincidence has it, we

sat next to each other in a concert tonight! This just goes to show

how effective email and Facebook can be at building up friendships."
So when the stars are aligned just right it would seem that there is yet value in sending our scores to conductors. It helps that Greg and Gary work in the same city. Building relationships with conductors that share something in common seems to be a good path to travel. The ensemble's website is here:
www.cascadianchorale.org
Greg's 2007 work "An Open World" recently received its Northwest premiere by the Portland Vocal Consort under the direction of Ryan Heller. This is the first piece in a series based on the poetry of Greg's father Fletcher LaVallee Bartholomew. The set is called "Three Gnostic Poems." Greg's father was an aviator and a bit of a philosopher. He gained some insights into the workings of the universe while up in the air looking back at the world. This piece is unusually delectable for the flavor of a son bringing the words of his deceased father back to life. Would that we all had such an opportunity. Bravo!
Greg Bartholomew's works have been performed all over the English speaking world and continental Europe. He composes both choral and instrumental music. Greg is a semi-finalist in the 2012 American Prize for Choral Music Award and received one of the first Silver Platter Awards for repertoire in the CCMC Composition Showcase. Greg's music is available through his website
www.gregbartholomew.com
.
Please peruse the scores available on ChoralNet in the Composition Showcase
http://www.choralnet.org/view/306612
. About 100 pieces are currently available by 30 different composers. This service is unique on the internet. Composers are only allowed to post a few of their best pieces, ensuring that all you will find are quality works. It is provided as a service for ACDA and ChoralNet members free of charge.
Date: February 14, 2012
Views: 4024
The CCMC ChoralNet Composer of the Month for February 2012 is Michael McGlynn.

"Choral music is changing. There is no precedent for this change. Technology is pushing into all of our lives in a way that it never has done before, and this will, and is, affecting the way choirs work and the infrastructure that surrounds them. I believe that these radical changes need to be addressed through interaction and dialogue. " ... Michael McGlynn May 21, 2011
The power of the internet is incredible. It has given composers the opportunity to become their own publishers and distributers. It allows us to find new texts to set, to hear new compositions and to meet composers from all around the world. The creation of ChoralNet's communities has allowed us to begin living Michael's prophetic words quoted above. Michael has been a supporter and advisor in the creation of our
Little Marketplace of New Music
, an example of the change that is coming. Please reply to this post with your own experiences with Michael or his music.
It has been my pleasure to get to know
Michael McGlynn
over the past several months. Michael's fame as a composer and as the creator and director of Anúna go hand in hand. In preparation for this article I watched YouTube videos, listened to several albums, read
Michael's Blog
and investigated
Anúna's website
. Although I would recommend this for everyone to try, the real value I discovered was in opening a dialogue with the man who has created and overseen the growth of his own international phenomenon. The bulk of this month's Composer of the Month installment will be our own little
Gradus Ad Parnassum
. The student is asking the master the questions and reporting to you the master's words of wisdom. In posts in our forum, Michael has offered his sage advice to the benefit of all, so my questions are somewhat focused on our community. Sometimes my questions were off the mark but I will give them to you unaltered. Those that read this article may notice Michael's influence on the direction we are heading and on new elements that will be appearing. I am placing this video here so that you may listen to two of Michael's beautiful works while you read this article. The pieces are "Lux Aeterna" and "The Road of Passage". There is little break between the two compositions.
Q&A with Michael McGlynn
1. You have chosen to self-publish your music. How has that decision helped or hindered the accessibility of your music?
--- Well, I live in Ireland, which is the wildwoods of classical music, so the chances of being published at all, particularly as a Southern Irish composer were nil. In 1994 I entered into an administration deal with Warner Chappell UK. I am still with them. They collect royalties from airplay and mechanical publishing of my work, but have left me to look after my Sheet Music myself. My voice as a composer is Anúna. The only way to have my work heard was through them, as my music was not performed by any other Irish choral groups until around 2005. I recorded large quantities of material and those recordings have resulted in the STORE on the Anúna website. In 2000 I went completely online with sales and it was like a window opening - the fresh-air of multiple choral voices, opinions and ideas have enhanced my life in ways I cannot say. I have full control but also the rare privilege of connecting with passionate people all over the world. I never want it to be any different.
2. Are there Irish publishers that have sought to publish your music?
--- No.
3. Do you feel self-publishing is a wise choice for all composers, or only certain types of composers? Explain.
--- Well, I do everything myself - manage Anúna, negotiate contracts, train singers, administer and run the choir, organize recordings, write and edit the music for these, etc., etc., etc. Some people seem to believe that they need other people to do things that they can actually do quite competently themselves. I love self-publishing for the reasons I state. It's fun. It just might not suit people who have a 9 to 5 job and little time to do anything. I am simply lucky.
4. What impact will having a standard process for accessing works on ChoralNet have on getting the works by composers in our community performed?
--- I think that anything that allows individuals to be heard is a good thing, for better or for worse I must add. I think that most composers attached to this list are not that interested in more than having their voices unleashed. If it only does that, then it will be a huge success. However, it really is up to people like me who are established to a certain extent to help and advise if asked, so I hope that there is lots of that, too.
5. Anúna is billed as Ireland's National Choir. You have worked to create a distinctly Irish brand of choral music by including modal melodies, traditional Irish instruments such as harp and Bodhrán and by using characteristics of these instruments in the voices of your choir. Has this vision served as a creative mechanism to help guide you to create music?
--- I'm not actually that interested in Irish music, to be honest. I know that lots of people love that element of my work. I am first and foremost a composer, exactly the same as those people I meet here (CCMC). I am obsessed with the land I live on. It is a very special place, and the only guide I need. I wish I could write more, but time is limited and I would rather jump into the sea than write about it at this point in my life.
6. How important is having a preconceived stylistic framework to the creative process?
--- I think that honesty is the only framework people should have. There are some cultures that believe that surrounding us is a Great Song - an Amhrán Mór. Fanciful as it may seem, I believe that my work, and that of so many others, is dependent on accessing and interpreting this. I don't work within a framework or style, and every day is an education.
7. Would you recommend having a stylistic framework in mind for our beginning and emerging composers?
--- I think that the term "composer" has too many connotations of elitism to it in many cases. I think we need to be real people, not apart, but part of society and the natural world to any extent we can be. Being a composer is not a profession, it is a gift that should be nourished and cherished.
8. As an artist you have many very successful modes of expression. You are an excellent singer, director, and composer. Would you say that you are an artist that uses your ensemble as your principal means of artistic expression?
--- Yes.
If so, is composition simply one of the tools you use to attain that expression through Anúna's performance?
If not, what is the relationship between your artistic role as a composer and your artistic role as a director?
--- I've never been asked this question before... I don't really know what the answer is. I don't see myself in any of these roles. It's a very strange position to be in to be able to carry a musical idea through to fruition, and I personally find it very odd when someone else interprets my work without my input. Being a composer and a performer I see no division between the two roles. One is part of the other.
9. How important is it for choral composers to also be the director of an ensemble?
--- Again - I haven't been asked this before, and I have personally never been in any other situation. I don't see the role of the composer with the same degree of awe that many people do. It is a job first, or a wonderful and fulfilling hobby. Then, sometimes, it is something else. A rare and amazing thing. My eight-year-old daughter picked up a guitar for the first time yesterday and improvised a song immediately. I was just a bit shocked, but maybe she could do this because our house is full of informal music all the time. alternatively it could be nature not nurture. Who knows...
10. In an interview with Michael Quinn from the Contemporary Music Centre in Ireland (2009), you said that composing is first and foremost a job, not a privilege and not a divine inspiration. Yet you say here that composing is not a profession, but a gift. How would you justify the contradiction?
--- Well, it is both. The moment of revelation or epiphany is the gift. The ability to be able to side-step into something wonderful is something natural, and something I believe that we all have as part of our humanity. I suppose I am making a division (between) the two aspects of my job. Well, there are three, because the transmission of the music is what takes up the third part of what I do. Many other composers don't feel that part three is something they can do - too much involved, and it definitely can block the creative energies... Life is relative. Some people create on a world stage. Others create at home, and their work is never heard. I don't think that either way is correct. The act of creation is usually enough for most of us. Adulation and accolade are something else entirely.
11. You have stated that your theory for the Anúna sound and the way you compose is to show the human element, which is basically flawed. Not that one can hear any flaws in your choir's performance, but can you elaborate on what kind of flaws exist and why you feel they are important?
--- Flaw is just that - imperfection. Most choirs strive for perfection. We don't. We look for connection first within the ensemble. We also connect personally and that is a vital thing for us. We trust each other, and laugh together and feel the music as one, or at least as close as we can to being one. Ego is not part of Anúna. The method of transmission is worked on constantly - posture, the breath, confidence - we build these up together. Maybe I don't mean flaw - maybe I mean that we strive for a different form of perfection to that sought after by other groups.
12. How can established composers help less established composers on ChoralNet?
--- That's simple - but the question that needs to be asked is why should they? I did pose something similar to a number of established US choral composers and their answer was that they had built up their business - invested financially, etc. Some of them don't actually benefit from increased competition in the marketplace, and that is completely understandable I think. I am in an unusual position because I am not competing with other composers, so I can be available for advice or help, but in many ways I agree with these composers. However, many years ago when I was asked by the English composer Colin Mawby to help an emerging writer who did not have the training and experience I had gained, I was very reluctant to do so. Colin's view was simple - others did not have the opportunities I had in my education. He said that at some stage we are all asked to give something back, as it is a circular process - in giving we receive. That's what community is about, and that's what this community should, in part, be about too.
13. What does our community have to offer experienced composers like you? What needs are not being met?
--- Well, that is a tricky one. I like the idea of being part of a community, and watching and listening to what others say. I am very isolated professionally at home. The only composer I have any kind of contact with is the Northern Irish composer Philip Hammond, whose "Requiem for the Lost Souls of the Titanic" will be part of Anuna's programme this season. Beyond the odd very amusing conversation we have on the subject of composition I never speak to anyone on the subject, nor do I for that matter discuss choral music with any other choral director here. For me this is a window that I can open to let in fresh air. Sometimes the air isn't as fresh as I would like, but that helps me to gain perspective on many issues.
14. How can we help each other to get our compositions performed?
--- I can't advise people on that, Jack. What I do think is that if we are all positive and work together, maybe organize events as a unit that display the best of our wares, or give people the technology to improve the transmission of what they have already, then this will help. Or simply being a shoulder to cry on the odd time... I would also say that a forum where composition is exposed to the gaze, positive or negative, of one's peers can result in realistic assessment of the genuine quality of one's work. Composing in isolation, or in a very limited musical environment (like I do) can give you unrealistic views of your efforts for the good and the bad. This, I think, is one of the most important things that this community can offer all of us. Finding the mechanisms within it are what is difficult. Efforts like yours will have far reaching effects on the entire community I believe.
15. You have an international travel schedule, you compose, sing and direct a choir, you run a website, lead workshops and do interviews. Does your family ever get to see you?
--- Yes - I was home for 4 weeks in the last 12. Normally it isn't that bad. I work at home so I see them all the time when I am here, and often there is a collective sigh of relief when I depart. On top of all that I find time to cycle, film and edit, swim, record and produce, etc. In many ways, living in Ireland has been a huge benefit. I had to learn to do all the things I do myself, so I didn't integrate into extant systems, rather I found ways around my lack of formal knowledge. I am a great believer of common sense. In choral music there isn't that much of it displayed. Singers and conductors have become dependent on structures that all need a good Spring-clean I believe. I am glad that I no longer appear to be shouting in wilderness, so long live ChoralNet...
Michael is his own publisher with most of his works available through the
sheet music
section on the Anúna website. The choir's most recent CD release is
The Best of Anúna
released June, 2011 and is available on the
Anúna site
or on
iTunes
. Michael has also taken up filmmaking and his visual works include some of the most beautiful landscapes in the world (see video of
Invocation
below). A
blog post
he made after the ACDA National Convention in March last year is an excellent resource for understanding Michael's views about publishing, technology, the ACDA, ChoralNet, and more. The quote at the beginning of this article is from that post. I look forward to Michael's continued participation in our community and look to him as a valued colleague and resource.
Date: January 16, 2012
Views: 3452
The CCMC ChoralNet Composer of the Month for January 2012 is Nick Page. Special thanks to Julie Myers for editing this blog series.
"Singing is an act of compassion. When we sing, we make the world a more beautiful place."

…..Nick Page
Please sign the guest book below by commenting with your own personal experience with Nick Page, critique of this article or with suggestions of composers to profile. Composers must be Composers of Choral Music Community (CCMC) members and must have commented or posted at least once in our community.
Dr. Barnwell is a longtime member of
Sweet Honey in the Rock
, a women's a cappella ensemble that performs repertoire about civil rights, African American issues and other thoughtful human topics. Nick took summer workshops with her and said those experiences were life changing. He described her ability to take a group of people, many of whom had never sung in a choir, and turn them into an amazing ensemble. Nick is a believer that singing is for everyone, not just for those who do it best. These workshops helped to solidify that belief. Nick went on to hire Dr. Barnwell to work with his choir and commissioned a work from her.
More recently, a similar experience affirmed Nick's beliefs about the power of singing. The chorus Joyful Noise is a choir of people with intellectual and physical disabilities from southern New Jersey and Delaware (They have a
community
on ChoralNet). The power of unchecked emotion really makes this group shine. Nick composed "
You Have a Heart
" for them (soon to be published by Earthsongs #S-357 ). Some of you may have seen it performed at the ACDA convention in Chicago last March. Here is a video of Joyful Noise singing a different Nick Page original, "
A Promise I Will Keep
" (Hal Leonard #08745514). The piece has sections of encouraged improvisation and is based on the Hippocratic Oath.
Alice Parker was another influence on Nick's quest to get the world singing. Alice said "...song issuing from one human throat is the essential first-step to a musical life." Following Parker's path, Nick makes a good portion of his living from being a song leader for workshops, conventions and religious organizations. Details are on his
website
.
In the early 1980s, Nick migrated from the East coast to the Midwest, landing a job as one of the conductors of the 600-voice
Chicago Children's Choir
. Experiences with this fine ensemble further influenced his style. One of the other directors at the time was gospel composer Keith Hampton. During his time with the choir, Nick's spirit was filled with the powerful and stirring emotions Dr. Hampton brought out in the singers. In Chicago, Nick also observed the late
Max Janowski
. Janowski was an influential music teacher, cantor, director and composer of Jewish liturgical music. His music has been characterized as being encouraging of congregational singing.
Nick studied the Mbube choral style of South Africa with Joseph Shabalala. Mbube (Zulu for "lion") has had a huge influence on world music. Mbube is closely related to a traditional diamond miners' musical style called isicathamaya, which I have heard translated as "Sneaky Feet Singing." In addition to having one of the most musical last names in history, Joseph Shabalala is the founder and leader of Ladysmith Black Mambazo, an ensemble that sings in isicathamaya style. Nick had the opportunity to transcribe an arrangement of "N'kosi Sikelel'i Afrika" by Shabalala and review it with him. Nick used that transcription as the basis for
his edition
, available in SATB and SA from World Music Press (203-748-1131 ). See the video below:
Nick received a Bachelor's degree in Music Education from Ithaca College and a Masters in Education from Lesley College. So what happened to take a man who could have had a wonderful career in strict classical music and set him on the path to be accepting of singing by ordinary people from all over the world? For the answer we need to start with Nick's childhood.
Nick Page grew up in a singing household. The sounds of his family singing folk songs and playing records filled his early years with music. His family had an eclectic listening pallet. Nick's favorite childhood favorites included Beethoven,
The Weavers
, and
Babatunde Olatunji
. For an American family in the late 1950s to be listening to Babatunde Olatunji as a matter of course is quite incredible. Although he was classically trained on string bass and in composition, Nick frequently played in folk, jazz, and bluegrass ensembles. These diverse experiences helped to create his voracious appetite for music that was outside the mainstream. Nick also studied ethnomusicology with David Locke at Tufts University.
Nick's compositional style is varied with influences from classical, jazz, folk and world musics. Composer and CCMC member
Lee Kesselman
has worked with Mr. Page many times. He had this to say about Nick's style:
"Nick is an expert at making music in the moment, but always for the people in the room. While people often refer to him as a 'multicultural expert'--I would prefer to call him 'omni-cultural'".
Nick's omni-cultural efforts have resulted in many choral gems. I am particularly drawn to his arrangement of
Niška Banja
for SSAA and piano for four hands, available from Boosey and Hawkes #OCTB6517. It is a song of power for women's ensembles. See the video below:
I saw Nick at a music teacher's convention in Wisconsin in the early 1990s. At the time, multicultural music was not at all accepted by mainstream classical musicians or most music teachers. I had a very hard time finding any resources from anywhere outside of Europe, but there was Nick, with a fistful of great repertoire that I still use as a staple in my children's and adult choirs. He is a man of vision and was at the vanguard of multicultural music education. Nick has included raga form, salsa, Yiddish dance, English madrigals, black gospel, barbershop quartet, sea shanties, and various forms of jazz in his works. Nick has written three books, all of which have received excellent reviews and look to be treasure troves for those who wish to teach multicultural music to their choirs and students. The books are:
Sing and Shine On
,
Music as a Way of Knowing
and
The Nick Page Sing With Us Songbook
.
His
website
gives lists of his works and links to online media examples. It may also be worthwhile for composers to check out the quotes about his works that Nick uses as advertising endorsements. There is a section titled the
Choral Family Newsletter
which is an incredible resource. Composers may find the article "Composing from a Cultural Perspective" particularly interesting and useful. For music educators, the
resource list
is the best I've seen.
Date: December 8, 2011
Views: 2585
    I have been working to find composers with various focuses from whom I feel our community can learn. If you would like to be considered for this series, take an active role in our community. Lurkers are welcome, but sharing your thoughts, questions or expertise gets you a free ticket for consideration. I am especially looking for a published composer who writes primarily music for worship.  Special thanks to CCMC member Julie Myers for helping to edit this article.  If you have any critique, comments or suggestions please reply below.
    The CCMC ChoralNet Composer of the Month for December 2011 is
M. Ryan Taylor.
   Ryan is a master at creating revenue streams from a variety of his talents. He piqued my interest when he wrote in a CCMC
forum post
about the
ASCAP Plus
program. I hope that by highlighting Ryan's work, other composers can learn from him and conductors can find value in the many useful products and services that he provides.
   M. Ryan Taylor is a multifaceted musician. He is a composer of choral music, opera, children's songs and some instrumental works.  He is a fine baritone, a choir director and an organizer of community music events. 
   Ryan's biggest success as a composer is his opera
Abinadi
. It is an opera in two acts and is based on texts from the
Book of Mormon
. The premiere was performed by the Brigham Young University School of Music. Ryan was invited to be involved in every aspect of the performance. This was a wonderful experience for him. I spoke to Dr. Lawrence Vincent, the music director at BYU in Provo, UT. He shared that the ability of the performers to be in dialogue with the composer was a huge asset to the production. The students were particularly pleased to be working with someone who had set texts from the fundamental scriptures of their faith. 
   Most of Ryan's choral music is available through his website:
choirworks.com
. Most of these works are available free of charge. Ryan uses the ASCAP Plus program to profit from the performances of many works rather than from a per copy fee.  I asked him to explain his philosophy and how ASCAP Plus works for him:
"ASCAP PLUS is a program of self-reporting performances for performance royalties through ASCAP. My award this year amounted to $250, which is an increase over awards that I received in past years. I reported several dozen performances of my works in this last round. It is not a lot of money, but it gives me a justification to offer many of my original compositions for free use. Most of the reported performances were choral works. To earn the same amount of money from traditional publishing I would have to sell about 1250 copies of choral works, assuming $2 per copy and a standard 10% royalty. As an 'emerging' composer, I prefer to offer my original works for free for both business and ideological reasons. I've reached many performers this way that I would not have otherwise and I believe the goal of music publishing should be to get the music out there - the internet makes this easy at a low cost to the publisher (in this case, myself). There are other ways to earn from the music including recording royalties and ASCAP Plus performance reporting."
   Ryan is very adept at using internet resources to make his works commercially available as well.  He uses a website called
Tradebit
. This site allows you to charge for the digital downloading of your files.  They of course get a percentage, but they handle the PayPal and credit card payments for you.  This is one of the advantages we hope will come with the composers' marketplace here on ChoralNet.
   I also found some of Ryan's works available on CD BABY.  I asked Ryan to share his knowledge about how to make money from these types of websites.  He offered three sites for permanent digital downloads and CD sales:
"On self-publishing your own recordings, there are three services that I primarily use. The first of these is
Bandcamp.com
, which allows users (accounts are free) to upload recordings and sell them using your existing PayPal account. Bandcamp takes a small portion of all sales, but has no upfront costs and has a really great player that you can use to embed tracks or albums onto web pages or blogs (which people can then buy).
   The second is
Kunaki.com
, which is by far the most affordable CD replication service I have found for small quantities of CDs. Getting your album set up is a little bit technical and they do not offer support in that way, but if you are a bit of a media geek, you should have no problems following their instructions - and they provide a free barcode for every CD you upload to their site. They do require you to order at least one copy of your CD a year to keep it active on their site, but there are no other upfront costs.
   The last is, of course,
CDBaby.com
, which is 'hands down' the better option when compared to competing rival TuneCore.com. CD Baby charges you a one-time set up fee to sell your CDs and distribute digital files. You send them a copy of your album and they convert it and send it out to every imaginable music service of note, including the big two, Amazon and iTunes. TuneCore charges you a yearly fee and does not handle physical CD sales."
   Ryan plays a very active role in his community producing and hosting many arts events with the help of the American Fork Arts Council.  He organizes three concerts a year of works by Utah composers in his role as chairman for the
Salty Cricket Composers Collective
. He also produces many art song and opera concerts. He holds two multi-congregational church choir performances each year. Last summer he held a choir camp for children that was attended by over 100 participants. Ryan also shows his commitment to building community through publishing a
free songbook
full of Christmas Carol arrangements and songs in the public domain.
   Ryan's high profile in the American Fork music community led to him being asked to take over as the director of the American Fork Children's Choir. This was a new experience which made him somewhat apprehensive.  He found a couple of resources that were very helpful (
Sound Advice
by Toronto Children's Choir Director, Jean Ashworth Bartle and
5 Wheels to Successful Sight-Singing
by John Bertalot). Ryan quickly endeared himself to the children of the choir and has enjoyed moving the ensemble forward.  As part of the duties with the organization, Ryan teaches multigenerational
classes in Ukelele
.  He sees himself as a composer who teaches, and this influences all aspects of his musicianship.  His students, young and old, are taught the tools of creating music.  Ryan also makes Ukelele art designs which he sells on t-shirts, bags and laptop sleeves through a website called
Printfection.com
   I learned several things from the career of this composer.  Ryan taught me about ASCAP Plus and where to go to produce CD's and digital downloads of my works online.  He also reinforced my assertion that being involved in the music community leads to bigger and better things.  If Ryan had not been so active it is unlikely he would have been asked to take on the American Forks Children's Choir.  He would have missed out on an opportunity that now fills his life with joy and helps provide his income. 
**********************************************************************
Resources discussed:
Sound Advice
 by Toronto Children's Choir Director, Jean Ashworth Bartle
Date: November 12, 2011
Views: 4041
     Welcome to the first edition of the Composers of Choral Music Community's (CCMC) ChoralNet Composer of the Month. Each month a composer from our community will be selected. Composers of various levels of experience will be sampled. This month's installment arose from an excellent discussion in our forum about performances beyond the premiere. I am calling on my personal experience to get started with this series. I hope that this testimonial style of writing will be different than the straight up info you could get from a composer's bio. Readers are welcome to comment on any aspect of the article and are encouraged to explore the music of each month's honored colleague. Keep in mind that one of the guiding purposes of this community is to open the door between composers and conductors on ChoralNet.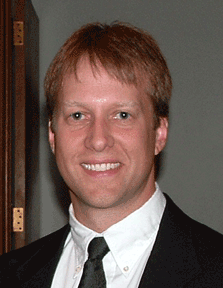 The composer of the month for November, 2011 is
Brad Burrill
. 
     I have known Brad Burrill in a professional capacity for many years. I first heard the quality of his work when he was the resident arranger for a Milwaukee based vocal jazz quintet called the ACME Vocal Company. Brad's arrangements were fresh and fun. Over the years we bumped into each other at conventions and workshops. At one such event Brad showed me a piece he wrote called
Full Fathom Five
. It was exactly the type of piece I was looking for to do with my high school concert choir. The text was interesting and the text setting was engaging. I could not believe that he was having difficulty getting it published. I talked to Brad about taking the piece on tour with my choir and managed to find funds to get him to write another piece for us to showcase. We performed his pieces at a local festival and then at several high schools around our state. The tour included stopping at the school where Brad was teaching and performing under his direction with our combined choirs. 
     The commissioned piece was called My Soul is Awakened for SATB a cappella and would be equally useful in a high school secular program or as a church anthem for Pentecost. It opens with a section of vocables that starts the piece on its flowing path. I listened to the midi file before seeing the text and could sense the imagery of a blowing wind. When I asked Brad about the piece he had this to say:
"(I) kind of trusted my muse; I let it lead me down the path of voices singing the accompaniment of swirling leaves on a windy day.  I distinctly remember the night I finished it (around 1:30 am) because I was very high on the piece, and when I came to bed Teresa (already asleep) asked me how I was. I responded that I was ecstatic because I had just given birth! She said that's nice and rolled over."
Perhaps Mrs. Burrill, who has actually given birth, did not think much of Brad's analogy.   
    We made a recording of the performance which later proved to be quite useful.  I took the recording to a district music staff meeting and used it to help convince my colleagues to commission Brad for that year's festival finale. He wrote
Come Dream With Me
for SA and SATB combined choirs. It was very well received. Brad put the recording of
My Soul is Awakened
on his
MySpace
page which led to a conductor at Bob Jones University in SC picking it up. That choir made a more
professional recording
which is also available to listen to. 
     Burrill's break on the road to being a published composer came because of networking. He attended the
Rene Clausen Choral School
 in Moorhead, MN a couple of times where he met a choir director named
Michael Culloton
.  Culloton directs the SW Minnesota Honors choir in Rochester, MN.  He agreed to look through some of Burrill's works.  Culloton programmed a performance of 
My Soul is Awakened
and then revealed that he was an editor for Santa Barbara Publishing. To the delight of the composer the piece was picked up by Santa Barbara and is available as octavo SBMP 711. (Click on the JWPepper or sheetmusicplus ads on this page to order).  Michael Culloton relayed to me that he felt the piece was something his high school aged students would enjoy and that his assumption proved to be correct.  Culloton said that many of his singers especially enjoyed meeting their first living composer when Burrill attended a rehearsal. 
"The spirit in the room that night was really fantastic and it changed the way the singers approached it from that time forward."
Santa Barbara has sold over 1,000 copies of
My Soul is Awakened
and the piece has received many performances. Singers have contacted the composer on his MySpace page telling him about their performances and their affection for the piece.  There is a video on YouTube of a choir singing it 
(Start at 1:10)
. You can get the idea of how Burrill's music affects singers by reading the comments.
     A recent thread in the CCMC forum discussed the teaching style of
composition teachers
. An interesting revelation was that many of our most prolific and successful composers did not study formally. This is the case with Burrill. When Brad attended the Clausen Choral School and met Eric Whitacre, he was inspired that a self-taught composer his own age was living his professional dream. That revelation led to the creation of what I believe is Burrill's finest work. 
Full Fathom Five
is a high school or college level powerhouse for SSATB a cappella and 2 short soprano solos. The imagery of the text is brought to life with such power and vitality that one can almost taste the salt air as the sea nymphs ring their bells. My high school students could not stop telling everyone what a great piece it was.  Everyone we performed it for was deeply moved. 
Full Fathom Five
was premiered by Rick Kieffer and the Whitefish Bay High School Bel Canto Choir (WI). The piece has received many performances. Most have come from direct promotion by the composer. A performance at an American Composers Forum choral 'reading salon' in Chicago led to another performance, as did personally sharing scores with many directors that Burrill has met over the years.
     So what lessons can we take from following this composer's journey? Having a valuable, marketable product that appeals to the performers as well as the audience is very important. Keeping these constituencies in mind when writing could be very helpful. Having a recording of the premier of a work available can lead to more performances and help to get a piece published.    
     As we discovered in our forum earlier this fall, having a degree in music theory or taking private lessons is no predictor of success as a composer. Composition is a social event. It is clear that composers need to build relationships with other musical people. There are a lot more high school choir directors than college or professional choir directors so that is a good place to start. Those that have their own ensembles may have more opportunities to make those connections through workshops, conventions and festivals. 
     Remember this: 
People
will choose your work,
people
will perform your work and
people
will listen to your work. Be a part of the lives of people around you. Be an active part of this community!
-------------------------------------------------------------
Brad Burrill is pursuing his career as a composer from his home near Wausau, WI. He can be reached at brad@bradburrill.com
Resources Discussed: